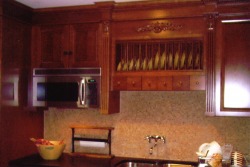 Oakhurst Interior Designer Helps make KItchen Choices Easy.. Is your Head spinning with decisions? Let's Narrow it down



The Majority of Kitchen cabinets are constructed in two main ways with other Options or features available depending on the Manufacturer. Having the following questions answered prior to venturing out to the Kitchen Showrooms, will help make this Big Ticket decision fast & easy

1. Do you want Plywood sides or Particle board sides?
Each have their pros & cons. Either one will damage if you have a water leak.... Plywood is usually more money or associated with custom lines. Either will hold up to your cabinets' lifespan.

2. The second most important construction feature- Is the Drawer.

Dovetail drawers with soft close OR glued & stapled particle board box with side glides.
The dovetail is superior and the drawer is where you get the most use. Definitely worth upgrading to Dovetail.

3. Framed or Frameless- This is the solid wood frame that encompases the front box of the cabinet, usually where the hinge of the door is attached to.
Frameless cabinets (ususally European) do not have this wood frame; hence the hinge is attched to the cabinet box (in- side). Some consumers like the framed style cabinets because if the hinge needs to be replaced or repaired it doesn't affect the side of the cabinet box.
Frameless gives you a little bit bigger opening.

4. Door- Full Overlay, Traditional overlay or Inset
Full Overlay- which means the door is the same size as the cabinet frame. Full Overlay is a more Updated Look.
Traditional/ Standard Overlay. Where the door is smaller than cabinet and you see some of the frame. Note: Frameless is always Full Overlay.
There is one other style called, Inset- this is usually a semi-custom or custom feature and is not recommended in areas close to the water, due to swelling. .

5. Raised panel or Recessed panel door. Raised panel means the center of the door is solid wood, veneer or MDF and is even with or protrudes beyond the rest of the door. Recessed doors, the center of door is flat, a veneer, mdf or panel plus. Raised panel withstands more abuse than a recessed panel, unless you use panel plus in the recessed door option.
Raised panels are associated with a more Traditional look.
Recessed is more Contemporary or Transitional in style.

6. What Wood Species? Oak, Birch, Alder, Maple, Poplar, Hickory, Cherry, Mahogany, Lyptus, Walnut , MDF (painted) or exotic veneers.

7. What Finish- Light, Dark stain or Painted? Stain, Stain with glaze/ or Accent, painted. A glaze is hand applied and highlights the raised areas of the cabinet door detail. It gives depth and dimension to the cabinet doors. An accent usually is done with an accent marker and is more definite line. NEVER choose your finish from a website or catalogue. YOU need a chip or Door sample.

8. Do you want panels on the appliances? Most stock lines don't offer that option, but confirm with each manufacturer. It's usually the semi- custom and custom lines that offer this application. Appliances should be chosen before Final layout and order is placed. Appliances affect a lot of factors and need to be selected PRIOR to cabinets being ordered.....

9. Specialty cabinets, like Farm sink, microwave in base cabinet, increase or decrease the depth of the cabinets, glass options. Features such as those listed are sometimes only available in the semi-custom & custom.

10. Layout will be The Final decision, Although a Key factor. Not only do you want a beautifully aesthetic kitchen, you want one that functions.......