Creating Your Color Story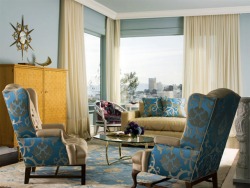 Creating Your Color Story
Interior designers have long stressed the importance of the "flow" through your home. What does that really mean? If you like a color that isn't in the rest of the house, is it okay to use it? What things make up the flow? Get some interior design ideas on how to create your color story below.
Creating a color story that flows through your home is the key to creating that flow from the front door to the back. A color story is a palette of hues and tones that takes its cue from a primary inspiration. That inspiration can be found in a piece of fabric, a favorite painting, or an area rug.
For the traditionalist, a large scaled floral printed fabric may be the initial color influence. Perhaps it has a brown background, and then features tones of a russet-coral and a turquoise blue. Secondary colors could be neutral shades, greens, and a pale gold. Using that pattern as a base, you can pull a variety of solid textures and smaller
patterns together. Work with an odd number of different fabrics, usually three to five styles.
This initial grouping of patterns and colors can start in a living room, and have a dressier feel, mixing silks, soft textures, and printed linens together. As you move from room to room, the colors will spill over, perhaps a different tone will take precedence as well as a mood. The stunning turquoise blue may become your wall color and the tones of the fabrics becoming paler. A wallpaper may have the anchor colors in a powder room.
The modern decorator will follow the same idea, but pattern tends to show up more in art and rugs, as opposed to the textiles. Mixing tonal textures to create a successful flow is more in tune with today's trends.
The key points to a successful color story:
·
Maintain the same palette throughout while mixing it up - it does not need to be an obvious match from room to room, and having colors that are slightly off is fine.
·
Don't be afraid to layer patterns and vary the scales - experiment with putting together
a mix. You should plan this out before executing, otherwise it can lead to an expensive mistake!
·
It is possible to introduce a color that isn't part of the original color story. For instance, if you like red and it doesn't appear anywhere else, you can still use it in a room. The important factor will be to back it up with a reason for being there, like in a piece of art or in accessories.
·
Art does not need to match your color palette, but it also shouldn't fight.
·
The flow of the colors needs to also relate to the flow of the space plan. Consider what the first thing is you see from one room to another. When you stand in your entry, all points in vision should collaborate.
·
Your paint should start lighter in the entry or front of the house, and then vary tonally as you move through in medium and darker tones. This adds as much in visual interest as your furnishings.
Work with the colors that you are truly attracted to, rather than feel completely safe with . You may find that your favorite spaces are the ones you took risks with.
Bio: This content is provided by Design Shuffle which is a social media site filled with interior design ideas from top tier design talent around the world. Best of all, registration is completely free."