No matter how beautiful the home is, it is already an inevitable fate that wear and tear will take its toll on walls, ceilings, floor, and furniture - this is true for everything else. So what should you do to save the lovely abode?
A full recovery involving the complete removal of imperfections such as wall cracks would usually cost a lot of money, not to mention the results will be short-lived. Once the tear starts, it is hard to stop.
With the usage of style and design, covering up these imperfections can be an easy task without spending as much of a fortune as building a new house. So get ready, because these tricks are hot off the oven!
Smart Use Of Wall Hangings
Of course, their main purpose is to liven up a rather boring and unflattering wall. But once the wall starts showing signs of cracks and paint chipping, wall art can redeem those walls.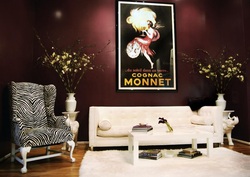 'Michelle Workman Interiors' (via)
These can be framed arts such as photographs, paintings, and prints. These can also be dart boards and wall clocks. Really, the list can be endless. But to really make this works, the wall art should match the style and mood of the home. Remember, if you are patching things up, do it with style.
The Magic Of Carpets
The house floor is perhaps one of the most abused parts of the home. It receives the footsteps of all family members and guests, and it also occasionally receives falls and droppings.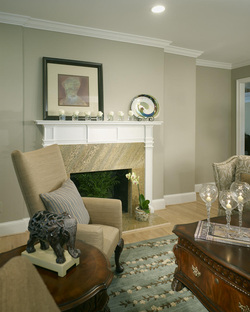 'Decorating Den Interiors/ Shelley Rodner C.I.D.' (via)
So even if high quality flooring such as wooden floors, marble tiles and black granite tiles are used, they will soon show signs of abuse. If cleaning is not enough such is the case of cracks, covering them up with stylish carpets and other floor coverings can do the trick.
Patching Up With Curtains And Drapes
The window area is another part of the house that first manifests signs of tear and wear. This is true whether wooden materials or metallic materials for are being used for window panels. The rain, wind, and frequent opening and closing will soon take its toll on them.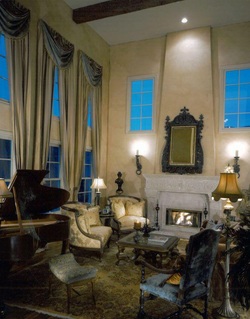 'J Hettinger Interiors' (via)
And while replacing them will do the best remedy, it is also very expensive and laborious. For a quick solution, at least until the resources are available to replace the old windows, use drapes and curtains to cover imperfections.
Keeping Paint History Records
Now here is a very useful trick. When painters work on the house, they use a combination of certain paints in order to get the most desired hue. For example, they might mix dark blue with white paint in order to make it lighter.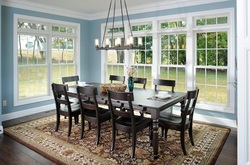 'Classic Home Painting Inc.' (via)
And when it comes to this, it is best to keep a record of the combination of paints used on every part of the house. If a wall needs to be patched up, records of pain combinations are easily accessible.
And these are just some of the quick and easy solutions you can do to hide imperfections that will inevitably show up in your house sooner or later. So who said you need to call a professional? You can do all of this by yourself!
Content provided by Arcadian Home Decor, a site that specializes in top quality home decor items at extremely affordable prices. Come visit us today!