INTERIOR DESIGN SERVICES & COACHING
We Now accept Credit Cards

STEP ONE: Do you need Services for staying in your home or Selling your home? SEE BELOW


---
SERVICES FOR STAYING IN MY HOME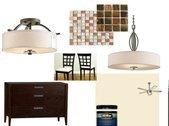 Option A. On Line Evaluation $175 flat fee
Have a design problem or question. We'll create a solution over the internet for you. A quick three step process, and we'll send you two custom Design solutions.

Option B IN- HOME CONSULTATION $350 flat fee
Get your list of design questions, samples and / or ideas ready as we walk thru your home and answer your questions. It can be one room or as many as we can talk about in one and a half hours. Plus, you get a follow up email with more detailed information about your design questions.

Option C Coaching Hours- Starting at $350 for 3 1/2 hr bundle
I can help you select Paint colors for one room or the whole house, Shopping, confirm things you selected, Meet with your contractor to answer questions or solve a problem. Building or remodeling a home? I can review your architectural plans to make sure your furniture will fit, look at your lighting plan. Call me when you need me.

Option D. Re-Design refresher in a Day $750 Flat fee
Restyle your room and get a fresh updated look, using what you own in one day. Our team will discuss with you, your goals and wants. Then we come in and create a fresher room using what you own, move pieces from other rooms or add personally selected items that you need, if your budget allows.


Option E Custom Design Plans- one room

Level # 1 Level # 2 Level # 3
* Computerized Space/ Floor Plan * Two Computerized Space/ Floor Plans * All of Level #2 Plus ADD
* Color Scheme with paint /fabric/finishes * Two Color Scheme with paint / fabric/finishes * Estimates from Contractors
* Concept Mood Board * Two Concept Mood Boards * Plans for lighting, Millwork
$ 750 flat fee * Specification on all the furniture/ fixtures * Shopping Trips
$ 750 All rooms except Kitchen & baths * Project Management services
$1,500 kitchen & $1,000 bathrooms * Champagne Reveal
Flat Fees price based on selected Add ons
---
Testimonial
"Stacey was very easy to work with and very accessible. She gave us lots of options within our budget." Carol W.- Ocean,NJ


SERVICES FOR SELLING MY HOME

Option A. Staging Report $350 flat fee
Get your home ready for Sale and get top dollar with our Staging Report. We come to your home, evaluate the entire inside of the home and evaluate the curb appeal. We then create a step by step guide to achieve maximum buying appeal. We offer you no/low cost and custom suggestions to bring in the buyers and sell your home fast.

Option B- Staging Day $750 and up ( flat fee) We can execute the staging report suggestions or we will do a one hour in home visit first to put together a staging plan if a staging report was not previously completed. We will move furniture ( small to medium), move accessories, hang pictures, re-style bookcases, cabinets, etc. All to maximize your homes visual space and appeal to the most buyers. We will bring additional accessories for purchase at wholesale if needed.
FURNITURE RENTAL AVAILABLE for an additional cost that we will quote for you with the purchase of a Staging report or Staging day.



Testimonial
"When you wish to make your environment a beautiful place to reside in, then call Stacey Sexton. Stacey listens to your vision and works her magic with the right colors, use of space, creativity and design. Her many resources are terrific and she always follows up. Whether your space is residential or commercial, large or compact, give a call to Stacey to make it the best it can be." Ted & Lynne Crystal- Tinton Falls, NJ